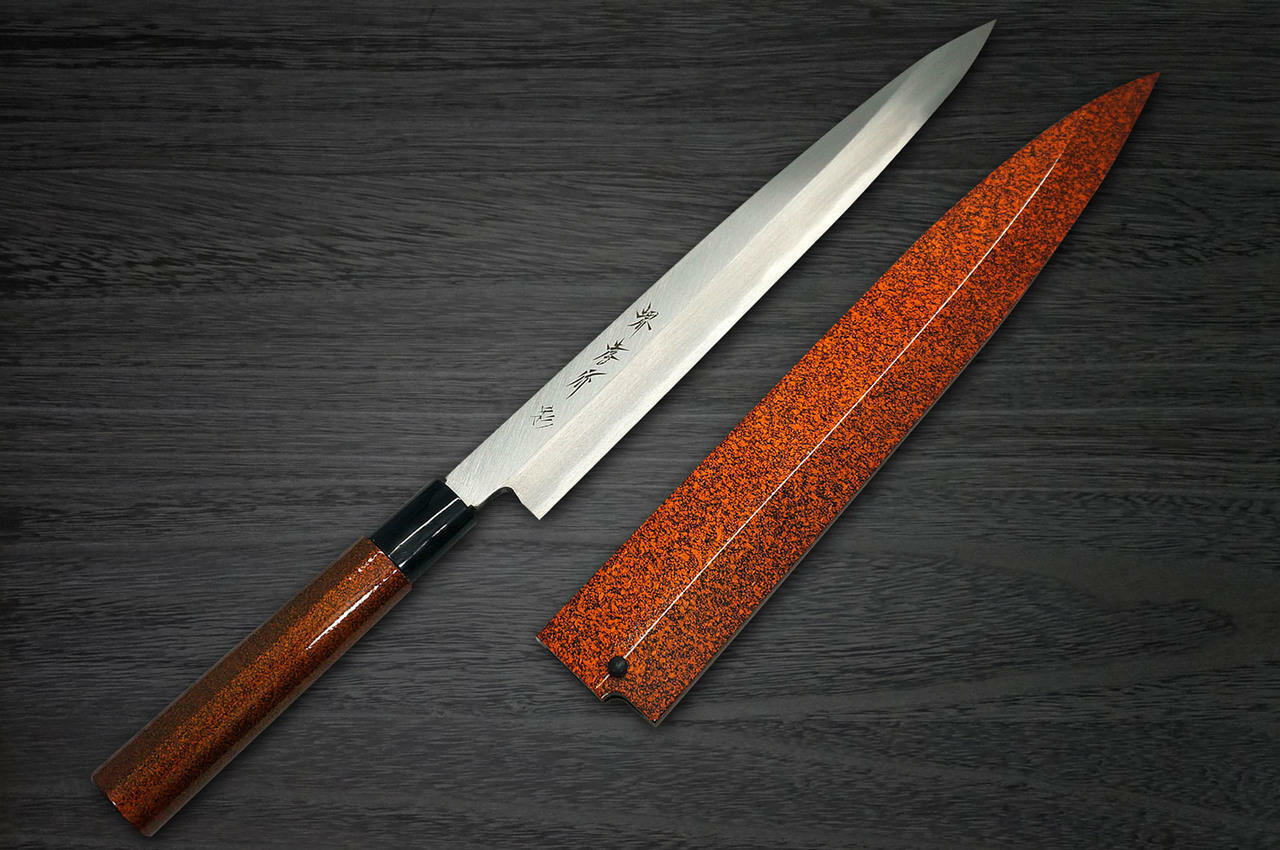 img by : https://www.hocho-knife.com/
Be it sushi or sashimi, Japanese food lovers and gourmets are always in the look for 'quality' in food preparation processes and also in ingredients selected for each dish. Generally, when it comes to quality Japanese cuisine, it always comes down to the mastery of blade skills – the chops, the slices, the clear-cut slices of raw Salmon topped on the authentic, Japanese rice mixed with vinegar. Diners are eager to witness the masters of Japanese sushi perform their swift cutting skills, which is generally why sushi bars and Omakase sushi tables are bare and present in all restaurants local and worldwide. As the crafting of sushi not only requires the seasoning of ingredients to create unique, yet delicate flavors, using the Japanese knife to perform all tasks essential to make delicious Japanese dishes is also the main criteria in grading a decent Japanese meal.
Most diners enjoy the sushi bar, a bare table, often in an Omakase restaurant which showcases all the techniques and knife mastery skills Japanese chefs perform to make special signature dishes. The eye-catching, yet somehow simple and delicate-looking Japanese food aesthetics further pushes the fame and popularity of Japanese cuisine towards its success and impact towards other kinds of cuisines. 
This not only makes that special meal a lot more extravagant, but also a special memory and an amazing dining experience to witness how mouth-watering sushi pieces are crafted and made. Therefore, it is highly important to include knife mastery skills in the list of what to look for in a good Japanese professional chef. Hopefuls wishing to become masters in the Japanese culinary industry can never dismiss the idea of mastering knife skills. The basic cuts and chops are not enough to wow diners and definitely too short-sighted to reach a goal towards success. With this, exploring Japan's top-quality knife brands is essential to kick-start a wonderful hobby and a career to be proud of.
Japan has the world's highest quality knife forging factories, with that includes: Sakai Takayuki. Through a long history of 600 years, leaping backwards in time and rewinding back to the centuries of knife forging have showed that the hard work and dedication blacksmiths and craftsmen have, has made Sakai Takayuki the number one, top-tier brand in Japan.
Through a long, 600-year history, centuries of knife forging has made Sakai Takayuki the number one, top-tier brand in Japan. Its popularity spreads throughout the globe continuously with its authentic designs and fine selection of blade forging materials to showcase beauty along with durability for the best usage and experience.
One of Sakai Takayuki's top series is the Sakai Takayuki Shikisai series.
Traditionally forged Japanese knives with the authentic Japanese beauty for both beginners and expert users. Highlighting its extreme sharpness, users can either choose between white steel (Kasumitogi) or stainless steel (INOX) as these two materials are extremely durable with high edge retention and efficiency for all kinds of food preparations. The Sakai Takayuki Shikisai series includes a wide array of knife selections with the beautifully crafted D-shaped handles made out of magnolia along with the hygienic urethane coating safe for food. All knives in this series not only gives off an aura of the authentic elegance Japanese traditions hold, but are also very suitable for preparation of appetizers and gentle, delicate dishes that requires intricacy and grace in the crafting process.
Even for long hours of usage, the Sakai Takayuki Shikisai knife series is easy to work with as comfort and efficiency are key in forging these blades. For instance, among the knives in this series, the Sakai Takayuki Shikisai Kasumitogi (White steel) Japanese Chef's Yanagiba(Sashimi) 270mm Hikari Knife with Saya Sheath is made out of high carbon steel for the best of durability and a Yanagiba knife designed with a Saya cover to portray the beauty of Japanese patterns along with its capability to perform motions and techniques specifically for the crafting of delicate sushi pieces. This series of Sakai Takayuki knives tops the charts with the provision of all major aspects required to either collect, keep, or use. Remember, a great knife is a chef's companion – one that will determine the results and justify the flavors of originality.