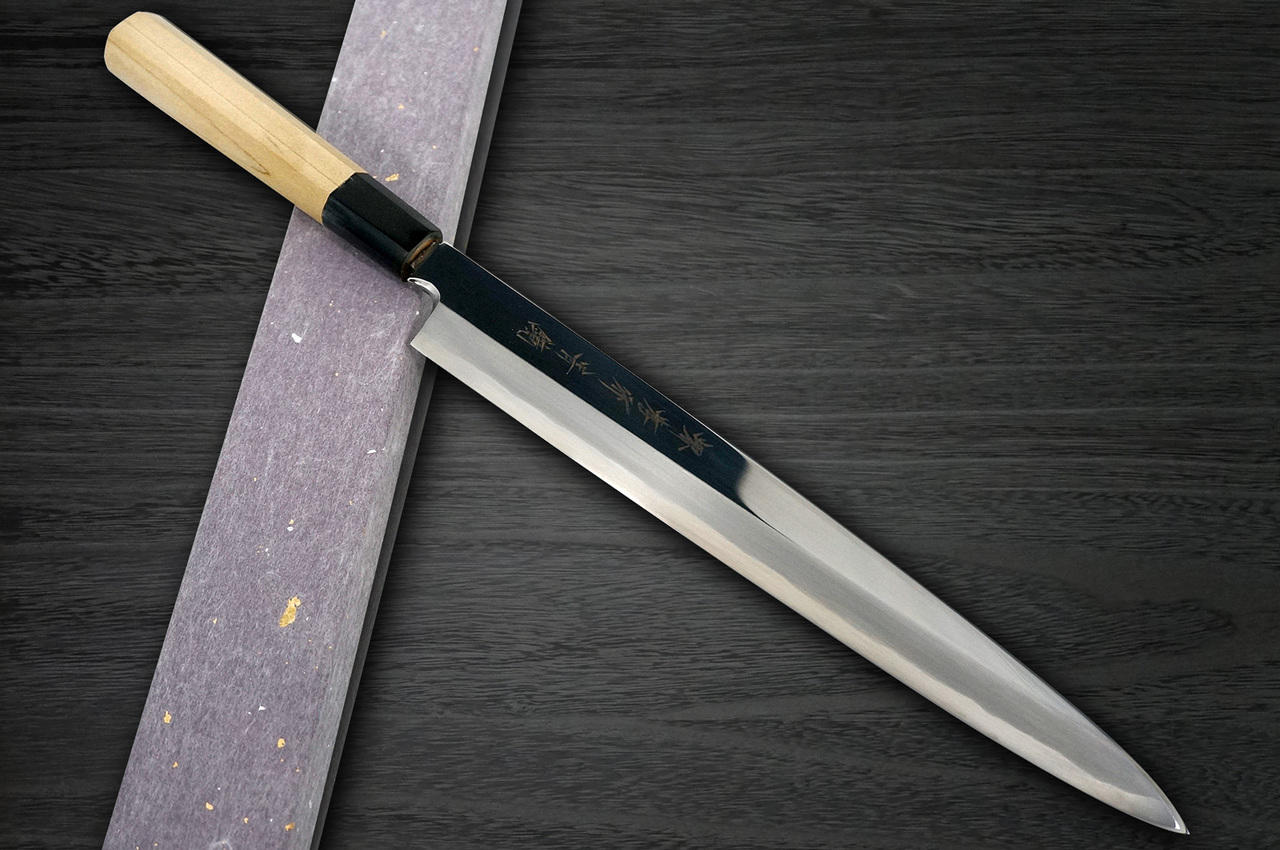 img by : hocho-knife.com
Vivid-colored Salmon slices and sides of authentic Japanese seaweed strips are what makes diners from different parts of the world amazed and intrigued with the beauty of Japanese cuisine. The delicate, subtle flavors of a wide range of ingredient selections further pushes Japanese dishes towards the world's charts as being among the most beloved, most-devoured of all times. Each specific Japanese dish has its very own story – therefore, the cooking processes each dish requires are different and will need varying equipment in order to successfully craft Japanese delicacies just the right way.
As Japanese dishes are often described as being 'intricate', 'complicated', yet 'fascinating', Japanese food lovers are very much into the Japanese food 'aesthetics' that are filled with mystery. Most Japanese dishes are served with style – not only are the dishes are edible or divinely delicious, but the plating and food placement leads to the so-called Japanese food aesthetics appealing to the eyes. The vivid orange colored Salmon slices placed elegantly on Japanese, wooden bamboo plates decorated with Nori strips, vibrant Caviar beads, and sprinkles of authentic sesame locks the hearts of diners from all parts of the globe. The latter delicacies have proved the ongoing and continuous love for Japanese food – with this, Japanese food head chefs and professionals in the industry are always in the search for premium quality culinary tools and equipment to ease their challenging cooking processes.
To successfully make mouth-watering, tastebuds-awakening sashimi dishes and sushi pieces just the right way, chefs are required to learn the Japanese traditional techniques of slicing, dicing, chopping, cutting, and handling all the processes essential to make true magic happen. In Omakase restaurants, it can be seen that diners are all welcome to witness the sushi-making processes right in front of their eyes, showcasing the fascinating skills – the swift chops, accurate slices, and the perfect combination of ingredient selections. With this being very significant in Japanese cuisine, it is no doubt Japanese chefs are in need of supreme-quality, high-performance, and efficient Japanese blades to help get the job done professionally.
Sakai Takayuki
In Japan, Sakai Takayuki is among the top-tier, fine quality knife brands with a history of over 600 years. With its origin in the city of Sakai, Sakai Takayuki is indeed among Japan's top knife brands that has continuously forged extremely sharp and efficient blades in various shapes, forms, and types to meet the needs and the desires of knife users as well as collectors. What truly makes Sakai Takayuki knives a lot more in demand than that of other knife brands is mainly its quality materials – of which includes hard steels of varying kinds and handle materials made out of rocks, vinyl, and different types of premium-quality woods.
Durability
Sakai Takayuki knives are also well-known for their durability and edge retention. As most of Sakai Takayuki's knives are all hand-crafted and made with a strong dedication to portray the traditional Japanese knife forging techniques, hammered textures depicting Japanese Gods and nature are very well loved by users as this feature also allows food to unstick from the blade bodies. The special Japanese blade forging technique applied in the knife forging processes here in Sakai Takayuki has led to a wide variety of knife types with extremely hard blade bodies to ensure that all cooking processes, the simple and challenging ones, can be done simply without worries.
More than just an ordinary kitchen knife, a Sakai Takayuki knife is indeed extraordinary and one-of-a-kind. The supreme blade durability, high-end quality, comfortable grip, unique designs, and top blade performance have altogether made Sakai Takayuki a trusted brand with worldwide users who would always have to compete with time to grab hold of a model before it runs out. If you're looking for a high-quality Japanese knife to brush your skills or decorate your beloved living room, Sakai Takayuki is absolutely a brand worth looking into.